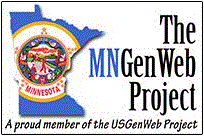 Jackson Co, MN
Photos...People and Places
(click on images to expand)
PEOPLE, FAMILIES, and GROUPS...
---
Unknown wedding couple
The submitter of this photo has been trying to identify the couple in this wedding photo, taken by a Jackson Photographer. Only info written on back of photo is "this was maid in 1899. age 21, girl Jean and man Rosey"
-photo courtesy Steven Ukasick, Apr 2008
Email Steve if you know who this is.
---
Unknown baby name
This baby could not be identified by anyone in my family. On the back it says Clara. Clara was my Gr. Grandma but we are positive this just means it belonged to her. She is from Lakefield, MN so we figure the picture must be from a relative or someone she knew. The picture was taken at E.F. Buchan's photography in Worthington, Mn. I'm hoping by posting the picture I will be able to find someone who knows who this baby is.
-photo courtesy Erin Andrews
---
Southwestern MN Hospital
-photo courtesy Gerald Peterson
---
"Corn Bee" on Wendel farm
A group gathering early 1950's. Charley Wendel in front with legs extended. Harold Wendel standing in front of young boy (Wallace Wendel) sitting on tractor. Wayne Wendel next to Harold in white shirt. Harry Steffen 2nd from left kneeling, Eugene Steffen front for far right kneeling. Warren Steffen standing 4th from right in dark coveralls. Recognize anyone else?
-photo courtesy Randy Wendel
---
Lakefield School ca 1890
Photo found in box of old pictures by submitter.
-photo courtesy Lauren Shober
---
District No 1 ca. early-mid 1940's?
2 photos...one with students identified.
TLyle Shearer was born about 1931 and Jean Shearer was born about 1937. Marjorie Garber, daughter of Edd and Iva Bute Garber was born July 14, 1934, and Peter Garber, son of Lloyd and Nettie Hartzler Garber was born August 5, 1934. Jean looks about 6 or 7 to me, so I'd estimate the date of this picture to be about 1943 or 1944.

-photo courtesy Carole Shearer Storla, daughter of Russel and Doris Trimmer Shearer, forwarded by Bob Birkey, Mar 2013
---
District No 55 Christmas
singing Christmas Tree play
-photo courtesy Paul Hanson, Mar 2013
---
District #55 - Middletown Township ~1920
Left to Right (Front Row): Kermit KOPPEN, Orville Wendelsdorf, Alfred Tusa, Beulah Baker, Lola Belle Halverson, Irene Guritz, and Lawrence Rezac.
(Middle Row): Amanda Walter, Gladys Fisher, Irma Beck.
(Back Row): John Walter, George Tusa, Frank Svoboda, and Lawrence Svobada
-photo courtesy Rebecca Parker
---



District #55 - Middletown Township
Some of the names on photo with the U.S. Flag are: Gene Colander, Audrey Tusa, ? Harlo, Richard Huganann w/flag, Maryann Schrier or Schriver?, Mickie Grants, the Rezack twins, Billy Hunt, Joe Schrier or Schriver? (spelling?)
Miss Seydel was a teacher for only a short time...perhaps a few years.

The ones on bikes from left to right:
1. Mary Ann Shrieber
2. (almost positive) Marvin Lucht
3. Lloyd Groshens
4. Richard Huginun
5. unknown
6. Billy Hunt
7. Goldie Lutch(?)

Back row no bikes:
1. possibly Alice Groshens Hanson
2.3.4.5. unsure

Input from Alice Hanson

-photos courtesy Paul Hanson, Feb 2013
---
District No 76 souvenir class 1900-01
Scan of souvenir brochure from Class of 1900-1901 school district
#76 in Round Lake Township. Includes student names.
-photo courtesy Lori Hegar, 2009
---

District No 88 class 1908
Scan of pupil listing brochure from Class of 1908 school district
#88 in Rost Township.
-courtesy Janelle (Rients) Leopold, May 2009
---




District No 100 sovenir brochure 1921
Scan of souvenir brochure from District 100, Christiania Tnsp in 1921.
The following was submitted by Robert Birkey:
My Grandfather Clyde Eugene Garber, was a teacher in Jackson County in the early 1920s. I have this small souvenir booklet that was given to the students and their parents at the end of the 1921 school year which lists the students and school board officers. I am very much interested in finding out whatever I can about Sunny Hill School, District # 100. This booklet is a part of history that has a lot of meaning for me and my family. Any assistance anyone can provide would be greatly appreciated.
An interesting story, from my Mother is that Grandpa was especially impressed with a little girl in his school by the name Tensie Sogge (her name appears on the list). Consequently, when my mother was born, she was given the middle name, Tensie.


District 100 students
My Grandfather Clyde Garber with his school children from the district 100 school, about 1921 or 1922. Two photos from the same day, and at least some of the children listed on the brochure are also in the photo. Irv Sether, who still lives in the Jackson area, identified the boy in the back row, second from the right, as Horace Sether, and the girl in the front row, second from left at Inez Sether. I am particularly interested in identifying Tensie Sogge, if she is in this picture.

-photos courtesy Robert Birkey, Click to email Robert
---
Jackson High School Basketball Teams
Photos of Jackson High School Basketball team members,
years 1940-1943 (hover mouse over photo for info)


-photos courtesy Greg Cady, Feb 2013
---
Fifth-grade class Jackson 10may1935
Class of 5th grade students in Jackson.
In this photo:
Lowell Leach Cady
Can you identify any of these students?
(send me an email...link at very bottom of page)

-photo courtesy Greg Cady, Feb 2013
---
Jackson High School class of 1931
Jackson High School class of 1931 at their 40th reunion in 1971.
Can you identify any of them?
FRONT ROW: Henrietta Miller (3rd from right)
MIDDLE ROW:
BACK ROW: Don D. Lev (5th from left)

-Identification help from: Joann Osgerby Geybels

-photo courtesy Bill Lev, Dec 2011
---
Jackson Water Polo Team
Jackson Water Polo Team 1925
Can you identify any of them?
Burt E. Cady (2nd from left...tallest, no hat)

-photo courtesy Greg Cady, Mar 2013
---
Lakefield HS class of 1938, 20th reunion held in 1958
Front row, L-R MEN: Vernon Pribyl, John Uhlarik, James Kelly, Darrell Kalash, Gerald Vancura.
Standing, L-R WOMEN: Evelyn Egge Mohr, Cleo Donaldson Parsley, Floreine Zeller Grussing (deceased), Lorelie Pohlman Hemphill, Gretchen Steffen Wendel, Katherine Rue, Viviana Hartnick Dvorak, Evelyn Salzwedel Slavin, Olga Matasovsky Elnicky, Geraldine Vancura Wiese, Alice Runkle Taylor, June Carrigan, Laurena Schmidt Schlottach, Marie Folkers Winkel, Edna Roesner Tarrant, Geraldine Malchow Wolff.
-Earl L. Mohr photo
---
Lakefield High School 1912
Written on the basketball is "LHS CHAMPS 1912". Can anyone identify these women?
-photo courtesy Colleen Boose
---
Country School 1922
Unknown exact school. Submitters' Grandmother "Alma" is the tall girl in the back with the glasses. This photo was taken when she graduated from grammer school and was going on to High School.
-photo courtesy Karyn Suwinski Feb 2008
---
Sacred Heart School Children 1890s in Heron Lake Possibly taken sometime in the mid-1890s. The Johnny Becker that is underlined died in 1899 and this is the only known picture of him. The picture had to be taken before then.
-photo courtesy Joanne Meyer Jun2008
---
Central Exchange visitors
Recognize anyone? This appears to be a photo of visitors which was attached to an apparent brochure given to them (?) after their visit. I don't know where this Central Exchange was, but they had farm machinery warehouses in Devils Lake and Fargo, ND. Perhaps these people toured as a group together or just happened to show up at the same tour-time (?), and may not be from the same area for all we know. What I do know is the gentleman on the far left wearing a suit with his hands folded is Charley F. Wendel (1883-1970). A rough guess is this photo was taken around early 1960's?
-photo courtesy Randy Wendel Mar 2008
---
St Aloysius Society
Photo apparently taken abt. 1902 in front of the Catholic Church in Jackson.
Only a partial name list is known. List of names very difficult to read. Help?
FRONT L-R: Makovicka, Jos Zelezny, Jos Vrchota, John Jelonek, ?ena Raderabe?, Frank Sturma, Svoboda, Chas Mott
REAR L-R: Jim Matejka, Joseph N. Prokes, Wesley Swetlik, Joh?, Thomas Jelineh (holding banner), Albert Kubes Jr, Jelin?, Frank Prokes, Rudolf Betlach, Joseph L.Prokes.
-photo courtesy Randy Wendel Mar 2008
---
Selective Service Inductees, Jackson Co, March 29, 1945, Jackson Co Courthouse
Some time ago, Heather (Livewire alum) posted this photo seeking names of pictured individuals.
I do not know what information she ever received, but here's what I could come up with:
Left to Right sitting (Front Row):
Dan Borchard, Lyle Thieme, unknown, Carl Williams, unknown, ? Richard G.M. Osgerby.
Left to Right (Back Row):
Verdick, Sparks, Ray Mier(sp?), unknown, Knutson, Floyd Strube
Lyle Thieme (d:2008) was in the U.S. Army from 1935 to 1938, then in the Navy as a seaman second class from 1944-1945.

-Identification help from: Joann Osgerby Geybels, Terry Burdette, Marilyn Rubbelke.
---
Otto and Theodore BEHRENFELD
George and Louis (Pawlitshek) BEHRENFELD
Otto, Theodore, and George were brothers...all the sons of John and Anna (Schueble) Behrenfield.
See Sacred Heart Cemetery for Behrenfeld headstone photos.
-photos courtesy Susan Behrenfeld Gulstad Dec 2010
---
The BETLACH family page
Emil and Theresa Cerhan Betlach family
Click the photo or here to access the family page and a link to the submitters genealogy website...
-Betlach family submissions by Patty Betlach Russell, Nov 2008
---
CADY family
Wesley S. Cady, G-Grandfather, Burt Elmer Cady (d:13jan1946 in Fairmont MN), Grandfather, and Lowell Leach Cady, father of photo submitter (Greg Cady).
Lowell Cady graduated from Jackson High School in 1943, joined the Marines, married and lived the rest of his life in Ohio.
Wesley S. Cady came from Troupsburg, New York. He and his wife Sarah Jane Cooper had children: Maude Mary, John H., Burt Elmer, Mary L., Frank Earl, Martha Pearl, William Gilbert.
Photo of Lowell and his mother, Cora.
Burt and Cora (Leach) had children: Alice, Earl "Brick", Lawrence, and Lowell.
Obituaries for some family members can be found on the BIOS and OBITS page

-submitted by Greg Cady, Jan and Mar 2013
---
Mr-Mrs Charles L. FEHLHAFER
This photo was sent to my gr. gr. grandfather's family as a post card. No one in my family could make a connection...perhaps they were neighbors or friends that lived in Jackson County. Anyone have a connection?
-photo courtesy Erin Andrews
---
Warren and Adelaide GROSHENS
Addie's Beauty Salon in Lakefield was frequented by many in the 1970's. Residents of Alpha, Warren and Addie were members of the photography club in Jackson and took many photos around Jackson county over the years. Their photos are now (Jan 2011) donated to the historical society.
-photo courtesy Paul Hanson (nephew)
---
Franz HARAZIN
Franz and Maria moved to Jackson MN from NY after June of 1880. They were immigrants from Czechoslovakia and
purchased a farm and lived in Jackson Co for a few years and returned back to NY before 1894. The children were: Franz, Joseph, Johan, Wenzl, Anna. Another girl Mary was born in MN. Another child may have been born and died. The farm was on a cross road. Supposedly the older boys worked in an Iron mine.
(NOTE: see -QUERIES- page for submitters email if you have any Harazin family info from Jackson Co)
-photo courtesy Jean Bottone
---
Daniel & Wilhemina (Milbrath) HEIDEMANN family, photo ca.1890


Front row: First row: DANIEL (buried in Rost cemetery), EMMA (first child born in America, married Adam Voehl, lived in Lakefield. Grandmother of Duane Voehl.) WILHELMINA (nee Milbrath, she's holding ELMER.) Reinhold is missing in the picture. He was older than Elmer, younger than Emma. He was Kenny Heideman's grandpa.

Back row: ALBERTINA (my Grandma married Herman Ahrens), AMELIA (married Dan Beasley, lived in a small two room house behind Grandma Ahrens' house when I was a little boy. We called her "Tante" the German word for Auntie. She was the grandmother of Marion, Warren and Don Meyer of Windom.) William (lived in Lakefield most of his life.) LOUISE, (I don't know who she married or where she lived.)

-photo courtesy Joanne Meyer Aug2009
-Identifications updated and narrations courtesy Dave Ahrens Jun2012
---
Frank LEV Postal Service certificate
Frank Lev received this certificate from his years of service as a postal carrier. Frank Lev had a horse-drawn postal wagon, and lived around the center of Jackson. Albert Lev was Franks' father (individual photo and headstone).
-photos courtesy William Lev, Nov 2010
---
Mrs. Anton J. MOE
Mrs. Anton J. Moe, wife of Dr. Anton Johnson Moe. Dr. Moe founded the Southwestern Minnesota Hospital at Heron Lake in 1903. Mrs. Moe was a nurse and operated the nursing school at the hospital.
-photo courtesy Gerald Peterson
---
POWERS family
This is a photo of the POWERS family taken at their home in Sioux Valley Township. Left to Right: Alta Mae Powers, Earl Thompson Powers, Edna Viola Powers (sitting in tree) and Eva Louise Powers.
-photo courtesy Erin Andrews
---
RADKE cousins
This photo is a group of cousins related to the Radke family. The back of the picture lists the names: Billy Schultz, Lena Rost, John Mittelstadt, Emil Schultz, Ida Grien, Amelia Linamin
-photo courtesy Erin Andrews
---
Albert RADKE
Albert RADKE was born Dec. 21, 1868 in Hustisford,Wisconsin. When he was a boy his family moved to Lakefield, Mn traveling by prairie schooner. His parents were Ernestine (Drager) and Wilhelm Radke.
-photo courtesy Erin Andrews
---
Stanley and Clara Anne (Radke) Sherman
Clara married Stanley Sherman. She was born April 20, 1903 in Rost Twp., Jackson County, Mn. Her parents are Albert Radke and Ida Tomford.
The second photo is Clara and Stanley on their wedding day 19 Sep1897 in Brewster, Mn.
-photo courtesy Erin Andrews
---
Ernestine (DRAGER) Radke
Ernestine was married to Wilhelm Radke, they homesteaded the Radke farm in Lakefield Minnesota. Ernestine was born in Germany in , Feb 4, 1838.
-photo courtesy Erin Andrews
---
Peter RADKE
These two pictures are of Peter Radke and both were taken at JA Bellinger's photography in Lakefield, Mn. Peter Radke's parents were Wilhelm Fredrich Radke and Marie Sirks. Peter died while serving his country in World War 1 of pnemonia. A small biography is listed for him on the military biography page for Jackson Co.
-photo courtesy Erin Andrews
---
RIENTS family
Johann Rients family photo. Paul Rients is in back row, far right.
-photo courtesy Lisa Severance
---
RIENTS family
This is a photo of the Rients family, they were neighbors of the Radke's in Lakefield, Mn. Back Row: Hermie, Theodore, Alvin, Ernie, and Clarence "Fat" Front: Mike, Elt, Annie, and Jim.
-photo courtesy Erin Andrews
---
ST.JOHNS THE BAPTIST CONFIRMATION
Confirmation class at Church of St. John the Baptist
ca 1916
Agnes Ukasick Roslansky is the 5th girl from the left.
-photo courtesy Steven Ukasick (Apr 2014)
---
STRUBE family
Children of Ella Pietz Strube (widow of William C. Strube).
Taken around 1929, in front of their house at 136 Jackson St.
on Depot Hill, Jackson, MN.
Back- Orville and Floyd
Front- Hilda, Norman and Agnes

See more Strube photos (family reunion) by clicking here.
-photo courtesy Cathy Buxengard
---
Carl Julius THOMPSON
(-Great-Grandfather of photo submitter)
Carl Julius Thompson (he went by Julius) and his wife Augusta Johanna Pallas Thompson homesteaded in Kimball Township. Photo date unknown.
Julius came to Minnesota from Denmark about 1883 and married "Gussie" on 16 Mar 1892 in Jackson.
They had 7 children, 6 of whom lived to adulthood: Emma, Alma, Karolina (died the day she was born), Ellen, Williamina, Caryll, and Walter.
His daughter Alma Augusta Thompson married Edmund Clement Hassing.
Aunt Alma and Uncle Edmund took over the family farm after Julius' death.

-photo courtesy Diane Tavoian, Covington, TX
---
WINZER family, 1911
This is a photo was taken in front of the Charles Winzer home. Charles settled in Jackson County in the Fall of 1869 and filed a homestead claim to the Southeast quarter of section 26. He did not pass winter 1869-1870 but returned April 1970 and became the first resident of the precinct. In this photo, the submitters grandmother, Alma, who was born 03 March 1908, celebrated her 100th birthday this year (2008)!

2nd photo is Charles Winzer.
-photos courtesy Karyn Suwinski, Jan 2008
---
WITT family
-Picture of young couple is parents of photo submitter, August Matthew Witt and
wife Florence Catherine Fredricka Brehmer Witt.
-Graduation picture of their son (sister of photo submitter), August Witt.

-Family picture of August and Dorthea (Kluever) Witt and children
(including young August Witt...father of photo submitter).

-Photo of August and Dorthea Witt years later.

-photos courtesy Elaine Witt Kallemeyn, Apr 2009
---
ZALEHA family farm, Lakefield, 1890's
These photos are of submitters Great-Grandmothers' family taken at the Zaleha farm near Lakefield during 1890's. The family previously lived in Pennsylvania and later returned to that state. Relatives who visited the Lakefield area in 1969 reported the house and barn were still standing.

-photos courtesy Lauren Shober, Aug 2008
---
Downtown Jackson, MN
Written on the postcard is "Main St. South from Sherman St. Jackson Minn".
-photo courtesy Colleen Boose
---
First National Bank, Jackson
I found these in my Grandparents photos. My Grandfather worked at the bank several years ago.
It appears a safe is being moved on a cold day and you can see a few men holding rifles during the event.
One at the door, the other on the corner.
-unknown photographer(s), photo courtesy Randy Wendel
---
Cornerstone laying, 28 March 1938
Jackson High School, Jackson, MN.
"Build to-day, then strong and sure,
With a firm and ample base;
And ascending and secure
Shall to-morrow find its place."
From "The Builders" By Henry Longfellow
-photo courtesy Cathy Buxengard, Jul 2010
---
SW MN Hospital
Southwestern Minnesota Hospital, Heron Lake, MN.
-photo courtesy Gerald Boose
---
Westensee's
M.F. Westensee's, Lakefield, MN (?)
Taken around 1900 or earlier? The man seated on the right is Joseph Ukasick who was born in 1869 so that would make him 31 in the picture so maybe the photo is a bit earlier. The picture was scanned from the photograph belonging to Joseph's grandson Lawrence Matejka.
-photo courtesy Steven Ukasick, Nov 2010
---
LAKEFIELD PARADE
Unknown parade event and date...possibly mid-1950's.
Some floats from out of town.

-photos courtesy Carolyn Klucas, Jan2011
(Great-grandparents were Carl and Marie Nauschutz from Lakefield and Frank and Mary Schuldt from Rost twp.)

---