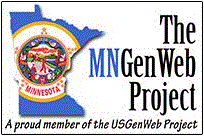 Jackson County, MN
Volunteer Lookups
Those people listed below have resources they feel may help their fellow researchers and are willing to look up information.
Don't be afraid to ask for their help, but remember, they respond best to friendly personal requests.
When requesting a lookup of a Jackson County volunteer, please follow these simple guidelines:
Send lookup requests directly to the appropriate volunteer listed below by clicking on their email link.
Include the name of the reference you are requesting as the volunteer may have several references available.
Be friendly, and, please don't forget to thank your Lookup Volunteer for their time and effort!
Please contact me if you wish to add any Jackson County resource material for this list. click here to email me at mnjackso@gmail.com.
Source Material

Volunteer

I have copies of: An Illustrated History of Jackson County by Arthur Rose published in 1910 published by Northern History Pub Co. Jackson, MN. Jackson County History Vol II 1979, Lakefield's First 100 Years.

Nancy Russell Anderson
Celebrating 150 Years, Jackson MN 1856-2006. (120 pages) There is not an index of names. Contents contain various accounts of events, etc.
Historic Buildings of Jackson MN Pub.2006.
History of Jackson County Vol.II Pub.1979.
History of Jackson County Pub.1910 by Arthur Rose.
Lakefield High School 1900-1986, lists graduating students, various school facts, photos, staff, etc.
Lakefield High School class of 1938...I have my grandmothers' scrapbook of class reunion photos throughout the years, and also includes various newspaper clippings and obits relating to classmates
Plat maps-I have several atlas publications with township plat maps of the county.
Randy Wendel
History of the Norwegian Settlements in Jackson County, Minnesota" by O.J. Wagnild. The contents of the book dwells on the Lutheran churches in the area and the problems they had. Many pastors are mentioned as are other persons in the area north of Jackson, MN.
This book can be found at the Jackson County Historical Society
I have both volumes of the Jackson Co. History by Rose and the Historical Soc. I also have some Rost and Hunter township maps from 1936, 1914, 1887. I also have the book We Honor Our Fallen Comrades-In-Arms by H. Ed Carlson published in 1989. It lists the names on the war monument in Lakefield and gives some biographical information about each one. The war dead are listed from WWI thru the Vietnam War. I would be happy to look up any information in this.
June Beason
Memorial Record of the Counties of Faribault, Martin, Watonwan, and Jackson, Minnesota, published 1895. It does not list an author, but is a book of approximately 450 brief biographies of some of the residents of these counties at that time.
Margaret Jenstad
I have created a database of obituaries and wedding announcements from the Okabena Press from 1925 to 1978. It also includes many from Heron Lake from 1969-1978, and some pre-1925 and post-1978 obituaries of Okabena folks from papers in surounding towns. I have basic information culled from each announcement (maiden name, parents' names) plus the issue of the Press in which it appeared. Townships are mostly West Heron Lake, Alba, Rost and Ewington, with some Heron Lake and Weimer. (11/2007)
Karen Frederickson
I have the book "Victory - Jackson County Minnesota in the World War" published 1921 by Neulen & Lueneburg, Lakefield, MN.

It lists all of the World War I soldiers (with their military designations, battles fought, etc. - and includes parents names, and address) -- who enlisted in Jackson County, Minnesota.

Colleen Boose
I have the following book which I can do lookups: "Heron Lake, Minnesota - The People 1989", over 400 pages containing biographies of mostly historical families of Heron Lake.
Scott Brunner

Volunteer to have your resource(s) listed here and I will add your email link!

email Randy to volunteer