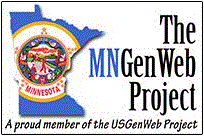 Jackson Co, MN
Good Shepard Catholic Cemetery, Des Moines Township, Jackson MN
(click on images to expand)
Good Shepard Catholic Cemetery...
click here to view cemetery location in Google Earth.
---
Cemetery sign
Located on south side of Jackson along Hwy 71.
-Randy Wendel photo.
---
Rita M. Cihak 23may1982-10aug2013

Obituary here

-Joanie (Thieme) Wendel photo 2014
---


Simon and Margaretha Klarner marker
Simon and Margaretha Klarner marker is on the right of photo.
It is a simple metal stand-up cross and only bears the name of this couple.
-Randy Wendel photo
In January 2014, I received the following information from Donna Spooner (Calgary, AB), G-G--Granddaughter of Simon and Margaretha Klarner.
Margaretha died in 1887 and Simon died in 23 Feb 1893. Margaretha was 68 and Simon was 79. I don't know when they arrived in the US. They had 3 children. Their son Martin arrived in Wisconsin with his family in 1875 their daughter Anna Hoffman (John) and her family came in 1879. They settled in Petersberg twp. Jackson co. In the 1880 census Martin was also in Petersberg twp. In the 1885 state census Simon and Margaretha were with them. Their daughter Margeret Siedl (Micheal) arrived with her family in 1892 and settled in the Lakefield area. The Seidls stayed in the area. Anna and John Hoffman moved to Saskatchewan CA in 1903. Five of their children moved with them. Their two oldest sons John and Joseph stayed in the US. Martin and Margaret Klarner moved to South Dakota. They had three children...Anna, Casper and Elizabeth.
---
Kenneth 28Dec1920-26May2005 and Connie (Egge) Sourbeck 14Feb1922-28Mar2005
Married 26Dec1946
Children: Suzanne, Cheryl (Walter Hoehn), Colleen, Ken, John, Carolyn

-Randy Wendel photo
---
Do you have any photos or information to add to this collection?
click here to send me email.